Skip Navigation
Website Accessibility

Building A Medallion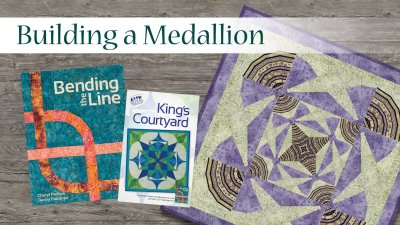 Download the
Building a Medallion Tutorial
Here

Still need Bending the Line?
Order today for a great low price!!

Order the King's Courtyard for 1/2 Price today and COMING SOON You'll be able to download the conversions for the KC quilt!

Squedge 22.5 - 16"
Squedge 22.5 and 45 - 12"
Squedge 22.5 and 45 - 8"

The Best way to save is selecting one of our Bundles. So many options!! Check out all of the Squedge bundles here as well as other angles and options!!
Join us for the fun video of how to build a medallion with the Squedges using the many sizes together.


Our download for this video includes a tutorial for designing and grids to get you started. To completely design your own make sure to download the A, B, and C block manipulatives and charts on the previous 3 pages.
(click previous above)