Skip Navigation
Website Accessibility

Simple Curves Free Patterns
Simple Curves Free Patterns
Each free pattern requires the Simple Curve tool.
Click on the image of the pattern you'd like to download.

Simple Coins

I hope you'll enjoy making this fun project. It's a fun twist on the traditional Chinese Coins quilts, but ours is made with Simple Curves!
This is a great project to use your scrap stash for. I've used some modern prints with gray, but think of how good it would look with batiks or scrap prints?
Simple Garden
Simple Garden Free Pattern uses the Simple Curve Tool to make this long narrow runner. It's a great way to show off a special piece of fabric or your
wonderful quilting!
This is a project you can whip up in less that 2 hours! Truly SIMPLE and so fun to make.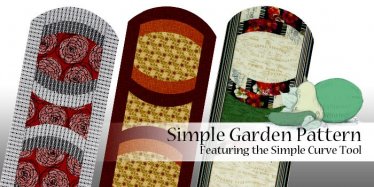 Simple Bands Continued
The Simple Bands Bed Runner is a continuation from the Simple Bands pattern. One step closer to the classic Wedding Ring, The Simple Bands Runner uses stripsets to add the classic piecing look to your bands.
Simple Bands Bed Runner does require the Simple Bands pattern and the Simple Curve Tool.
We hope you enjoy making this project and it helps you to reach your goal of a Double Wedding Ring quilt for your upcoming June or July Weddings!