Skip Navigation
Website Accessibility

Finding Perfection
Have you ever been asked to make something and it just starts stirring up your imagination? Your creativity takes new paths it never imagined before? Well that is exactly what happened to Cheryl when someone asked her how to make a seven point star and the
Perfect 7
was born!
You might wonder why would you want a seven point star? First take a look at a sheriff's badge. Seven Points! So standing behind your man or woman in blue might be reason enough. But there is also something you get in seven points that is so pleasing to the eye. It's a symmetry thing. That different look to an odd number of points. You find it in the five pointed star also.


So lets take a look at the seven pointed star. What kind of star do you want to create? A fat chunky star? A skinny delicate star?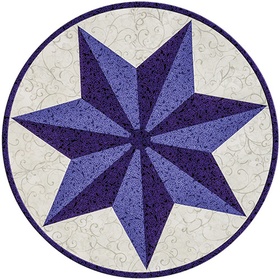 Now we couldn't stop at just a star. Look at those angles!! There is beauty there! So what else can we do with them?
The Perfect 7 comes with the pattern for all 7 designs!! Plus a framing template to make it square so you can add it to a quilt or just border it for a wall hanging. So what do you think? Do you find beauty in the Perfect 7? We sure do. Now to continue to design and come up with more patterns that will take this tool onto new levels!

Happy Quilting!
Brooke